The Mississauga Cosmetic Surgery & Laser Clinic
247 Queensway West
Mississauga, ON L5B 1B9
Phone: (905) 273-3045
Monday: 8:30 a.m.–4:30 p.m.
Tuesday: 8:30 a.m.–5 p.m.
Wednesday: 8:30 a.m.–6 p.m.
Thursday: 7 a.m.–7 p.m.
Friday: 8:30 a.m.–4:30 p.m.
Saturday: 9 a.m.–3 p.m.


The Mississauga Cosmetic Surgery & Laser Clinic
1-66 Avenue Road
Toronto, ON M5R 3N8
Phone: (416) 207-9090
Monday–Friday: 9 a.m.–5 p.m.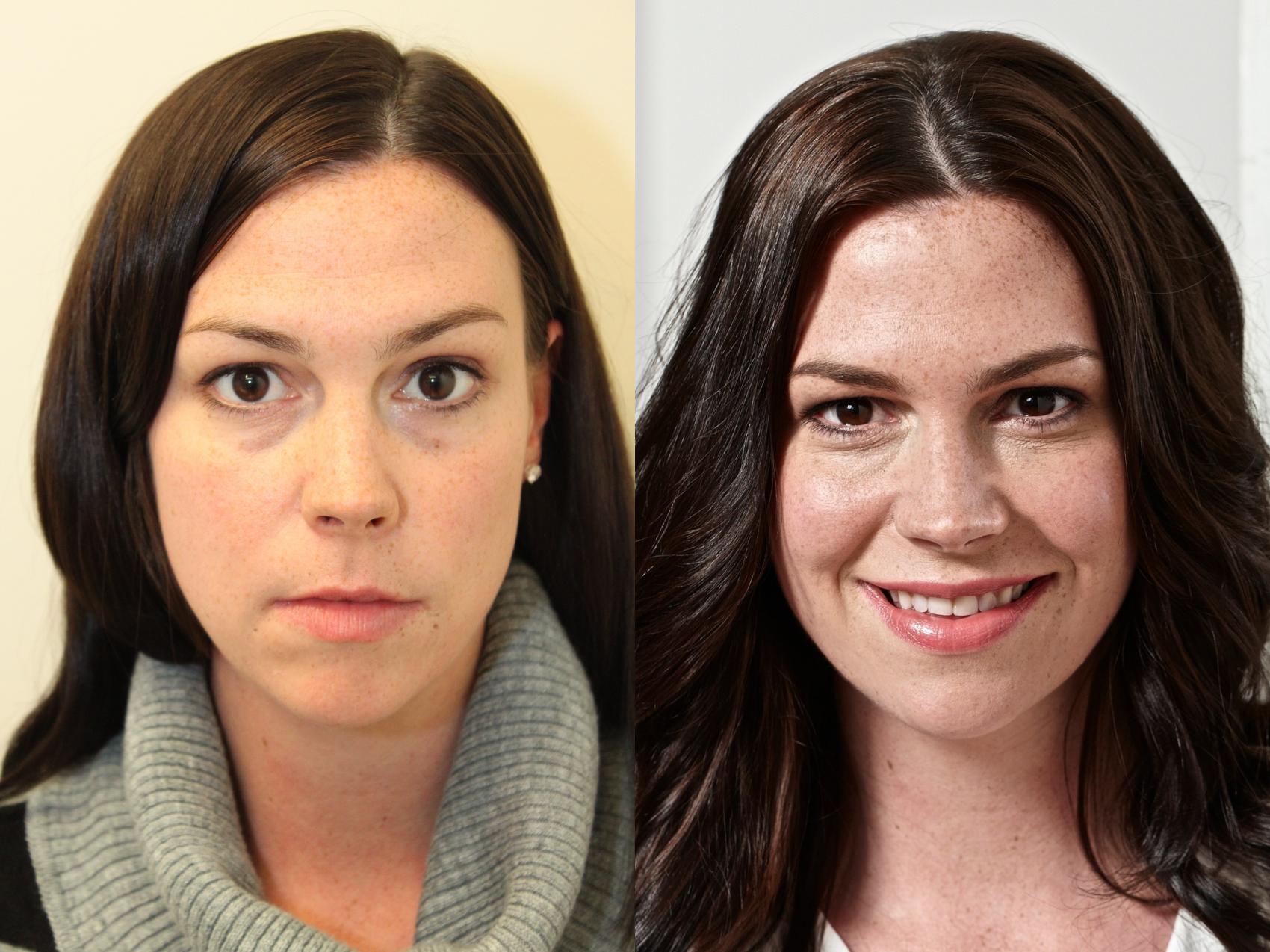 Before & After
This marketing executive was on maternity leave from her high powered job when she was offered the opportunity to participate in a fun "Mommy Makeover" for Elevate magazine. She had had her baby a few months ago, and while on leave had also done a renovation on her home and moved, all of which she found challenging with a newborn. She had started to notice lines in her forehead, and dark circles under eyes as well as some fine lines elsewhere that she didn't like. With his experience in plastic surgery Toronto and Mississauga based Dr. Weinberg was ideally suited to reviewing her concerns, and he recommended a combination of prescription wrinkle injections to soften lines in her forehead, and hyaluronic dermal fillers to remedy the hollows under her eyes. The prescription injections relaxed the muscles in her glabellar area, and will be preventative if repeated two or three times a year, making sure those forehead or " grouchy" lines don't become deeper or more noticeable as time goes by. She also had a subtle lip augmentation with Restylane, as well as Restylane in her cheeks and marionette lines. The patient reported the treatments were painless and she did not experience any bruising or swelling. She felt the results were a subtle enhancement of her natural features that gave her added confidence returning to the workplace.
Procedures Performed
View All Patient Photos
*Keep in mind that each patient is unique and your results may vary.